BIOPAK MEDICAL

Health & Environment authorities worldwide have established strict guidelines in order to ensure accountability and to induce moral obligations of clinical waste producers. The Biopak-Medical waste containers are made to ensure compliance to such guidelines and implement a duty of care to users for safe disposal or medical waste.

Infection Control Guidelines

Disposable needles, scalpel blades and other sharp items capable of causing injury must be placed into puncture-resistant containers (e.g. sharp containers) located as close as possible to the area in which they are used. In addition used needles should never be recapped, purposely bent, broken or otherwise manipulated by hand.
(Guidelines for Preventing Transmission of Bloodborne Infections in a Healthcare Setting) From Ministry of Health

Visibility

Containers should be visible & recognizable to healthcare workers who handle them. The current fill status of the container should be easily observable along with proper warning labels & colour coded, like the BIOPAK series.
Performance criteria of CDC (Centers for Disease Control and Prevention)
FEATURES
Biopak 6,10 and 20 have two different needle unwinder slots

Large label for filling data and information

Puncture-resistant body, leakage proof

Auroclavable (Moist Heat 121°C for 45 minutes / 134°C for 7 minutes)

Secure closure lid
SPECIFICATIONS
Available in 4 sizes (1.63L, 6L, 10L, 20L)

Tested according to BS7320:1990

Designed to meet OSHA standards & CDC guidelines

Made of Polypropylene

Suitable for clinics, hospital, research institutions, tattoo shops, veterinary and other healthcare establishments
Accessories for MGB Biopak Medical Bins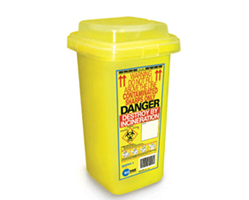 BIOPAK 2
Specifications

| | |
| --- | --- |
| Dead Weight Approx (Kg) | 0.20 |
| Packing (per carton) | 15pcs |
| Top View (mm) | 115 |
| Aperture Size (mm) | 80 |
| Front/Side View (mm) | 85 |
| Height | 250 |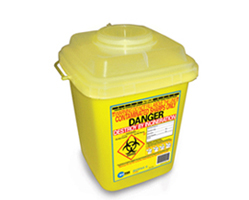 BIOPAK 6
Specifications

| | |
| --- | --- |
| Nom. Volume (L) | 6 |
| Dead Weight Approx (Kg) | 0.45 |
| Packing (per carton) | 8pcs |
| Top View (mm) | 205 |
| Aperture Size (mm) | 95 |
| Front/Side View (mm) | 160 |
| Height | 270 |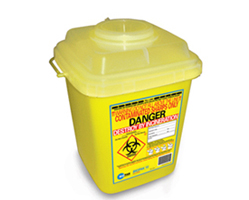 BIOPAK 10
Specifications

| | |
| --- | --- |
| Nom. Volume (L) | 10 |
| Dead Weight Approx (Kg) | 0.55 |
| Packing (per carton) | 8pcs |
| Top View (mm) | 240 |
| Aperture Size (mm) | 95 |
| Front/Side View (mm) | 190 |
| Height | 285 |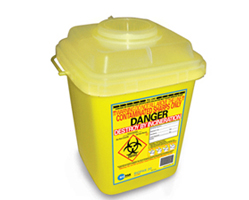 BIOPAK 20
Specifications

| | |
| --- | --- |
| Nom. Volume (L) | 20 |
| Dead Weight Approx (Kg) | 0.80 |
| Packing (per carton) | 8pcs |
| Top View (mm) | 300 |
| Aperture Size (mm) | 95 |
| Front/Side View (mm) | 230 |
| Height | 360 |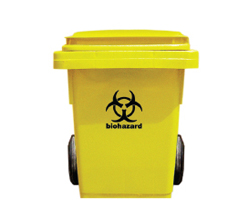 BIOPAK MGB 60
Specifications

| | |
| --- | --- |
| Nom. Volume (L) | 60 |
| Dead Weight Approx (Kg) | 8.4 |
| Useful Load (Kg) | 40 |
| Overall Height (mm) | 658 |
| Overall Width (mm) | 470 |
| Overall Depth (mm) | 550 |
| Upper Edge Comb (mm) | 593 |
| Wheel Diameter (mm) | 200 |
| Height | 250 |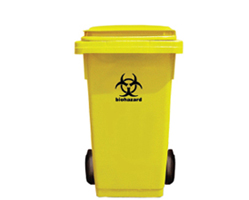 BIOPAK MGB 120
Specifications

| | |
| --- | --- |
| Nom. Volume (L) | 120 |
| Dead Weight Approx (Kg) | 10.5 |
| Useful Load (Kg) | 60 |
| Overall Height (mm) | 940 |
| Overall Width (mm) | 480 |
| Overall Depth (mm) | 550 |
| Upper Edge Comb (mm) | 870 |
| Wheel Diameter (mm) | 200 |
| Height | 270 |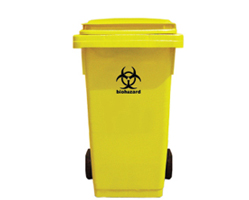 BIOPAK MGB 240
Specifications

| | |
| --- | --- |
| Nom. Volume (L) | 240 |
| Dead Weight Approx (Kg) | 14.3 |
| Useful Load (Kg) | 110 |
| Overall Height (mm) | 1080 |
| Overall Width (mm) | 580 |
| Overall Depth (mm) | 730 |
| Upper Edge Comb (mm) | 1000 |
| Wheel Diameter (mm) | 200 |
| Height | 285 |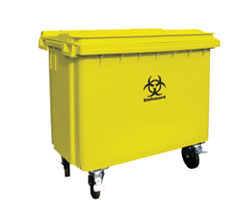 BIOPAK MGB 660
Specifications

| | |
| --- | --- |
| Nom. Volume (L) | 660 |
| Dead Weight Approx (Kg) | 41 |
| Useful Load (Kg) | 310 |
| Overall Height (mm) | 1175 |
| Overall Width (mm) | 1310 |
| Overall Depth (mm) | 775 |
| Upper Edge Comb (mm) | 1085 |
| Wheel Diameter (mm) | 200 |
| Height | 360 |